Looking to start your career right out of high school? Maybe you have been out of school for a while and are looking for a challenging new career. Either way this may be the opportunity for you! Earn while you learn in the GROB Apprenticeship Program. Our program features on-the-job training, a hands-on learning environment, and a company-paid college degree. This combination of training and education helps our apprentices become valuable members of our highly-skilled workforce.
The program is designed to prepare students for technician-level jobs within our company. This could include working in the world of robotics, CNC machines, computer aided drafting and design, assembly and test equipment, and the total flexible manufacturing network.
We hope that you will consider joining our team as an apprentice and build your future with us!
The Workforce of Tomorrow
We are no longer accepting applications for the 2020 apprenticeship class. We will open the application site for the 2021 apprenticeship class in the fall.
Types of apprenticeships we offer:
Mechanical
Electrical
Not sure which path is for you?
Not to worry – all of our first year apprentices go through a Basic Training period where they get to experience both mechanical and electrical work in order to help them decide based on their aptitude/interest.
Higher education
GROB apprentices attend Rhodes State College in Lima where they have the opportunity to earn a company-paid Associate Degree
Mechanical apprentices are enrolled in the Manufacturing Engineering Technology program while electrical apprentices are enrolled in Electronic Engineering Technology
Apprentices are paid their GROB hourly wage even while attending class
Apprentices also receive job-specific training at GROB from a dedicated and experienced training staff
What we offer
As a global company, each year we are able to offer a few of our apprentices the opportunity to travel to our parent company in Germany for a 6-week exchange program.
Considered a full-time employee
This means you will be able to receive full benefits (medical, vision, dental), enroll in a 401k, enjoy free daily catered lunches, and benefit from paid holidays.
All tools you would need for the program are provided
Uniforms are provided at no expense to the apprentice
Reimbursement for new safety shoes each year
Apprentices work a 40 hour week. Part of that time is spent at Rhodes State College – you'll get paid while you're learning too
Apprentices also receive yearly pay increases
To apply for one our apprenticeship positions, click "apply now" below to complete an online application.
Requirements to apply:
High school diploma or GED (high school seniors may apply in order to begin their apprenticeship directly after graduation)
Legally eligible to work in the U.S.

To be considered you will need to:
Complete each part of the online application
Upload your resume
Submit your most recent high school transcripts. (You may also submit any college transcripts you have if applicable)
Become a GROB apprentice!
Apprenticeship Open House and Tour
GROB Systems, Inc. would like to invite those that are interested in becoming an apprentice to attend one of our Apprenticeship Open House and Tour events. We encourage you to bring your parents, guardians or loved ones with you to experience what our program is like and to receive a tour of our state-of-the-art facility.
All tours begin promptly at 9 am with a brief presentation to learn more about our program. Tours will follow the presentation and be given by our current apprentices. We look forward to meeting you!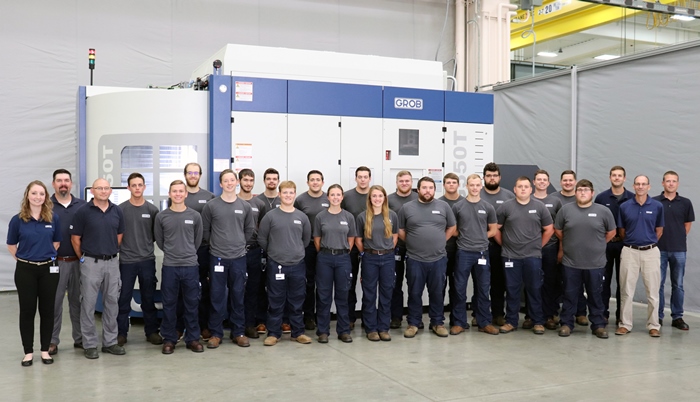 Saturday, October 12, 2019
Saturday, November 9, 2019
Saturday, December 7, 2019
Saturday, January 11, 2020
Saturday, February 8, 2020