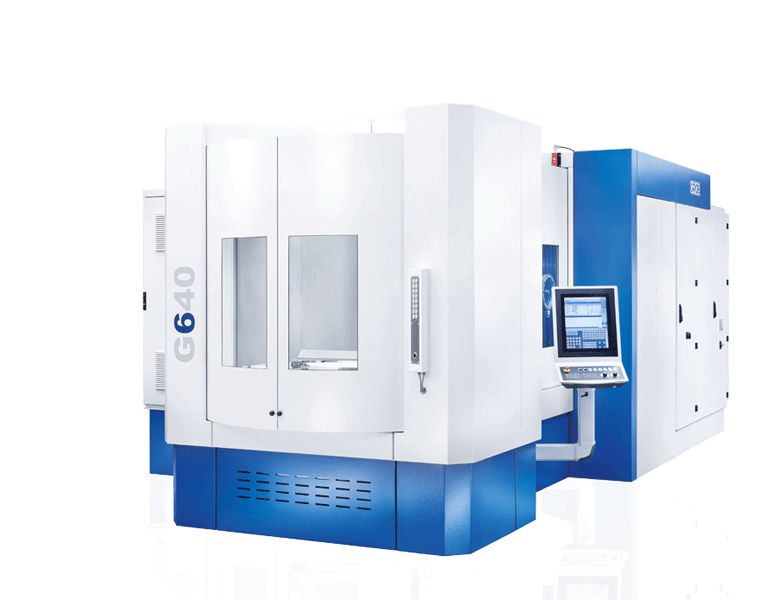 G440 | G640 | G840
4-axis universal machine series
The 4-axis universal machining centers G440, G640 and G840 offer our customers a heavy-duty machine series, which at the same time guarantees robust and also optimal, dynamic processes.
High productivity, reliable components and a unique loadability characterize the 4-axis machine series. Thanks to extensive configuration options, our machining centers can be perfectly matched to the requirements of your production.
Are you interested in our 4-axis machine series?
Your advantage at a glance
Maximum flexibility with weight loading of the pallet changer
Maximum stability for the greatest volume machining
Unique machine concept
Topology optimization for a perfect combination between stability, damping and weight.
Thanks to the different types of motorized spindles (HSK, SK, BIG-PLUS) you will have a wide range of possibilities to find the optimal solution for your machining.
Depending on the equipment, the drive concept is based on one ball screw drive arranged in the mass center or two symmetrically arranged ball screw drives in the Y-axis. The torque motor in the B-axis, which is already installed in the standard model, also enables a fast positioning movement with maximum precision.
Optimally designed Tool Center Point (TCP) ensures extremely stable processes and high cutting performance.
Efficient machine cooling
Our efficient machine cooling concept includes the cooling of the power train, control cabinet, motorized spindle, rotary table and cutting fluid system, whereby a high level of accuracy is achieved on the part.
Working with familiar control system with choice between SIEMENS machine controls.
The maximum possible part can be machined in the work area with the maximum tool length (up to 830 mm).
Choice between different tool magazine types in different sizes (up to 450 pockets). These have a modular structure and can also be exchanged afterwards using "plug and play".
The chip conveyor can be designed for your different machining processes and is suitable for a wide variety of materials.
The cutting fluid system is available in different packages and ensures a chip-free work area and a stable process. The optionally available IKZ with up to 120 bar rounds off the various additional options.
Would you like a specific offer for a 4-axis machine from GROB?
Just select the relevant specifications and we will promptly send you your personal offer for your milling machining center.